Imperial Solar Provides Quality Professional Electrical Services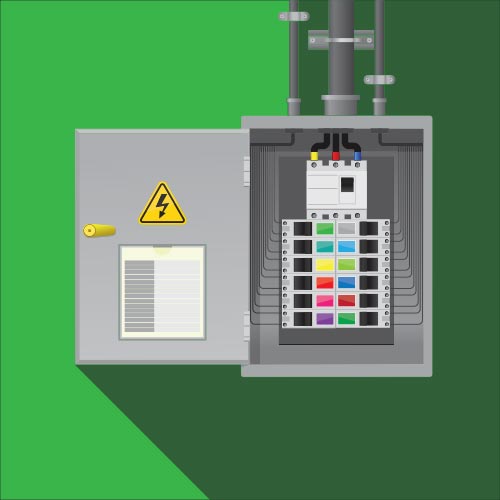 About our Electrical Services:
At Imperial Solar, we offer extensive residential and commercial electrical services. These services include, when needed, Electrical meter and service upgrades, change of switchboards, transformers, generators, circuit breakers, outlets, grounding and energy conservation.
is upgrading or replacing of the exiting electrical panel to accommodate the additional current produced by the solar system.
When designing a solar system, the total amperage required for the system is computed. This is compared to the amperage of your existing electrical panels. If the current amperage in your electrical panel is too low your electrical panel will be required to be replaced.
How do you know if you need to upgrade your power?
Homes built in the 80s and before may require a panel upgrade or they may not. That will depend on the model and how much power the solar requires not to mention the usage of your home that we must take into factor. Your electrical panel is the most important and critical point of power connection in your home or business. This is where all electricity (current) gets distributed to the rest of the house. The electrical panel Your panel will determine how much power is available for the circuits to distribute to all the rest of the loads.  If your electrical panel is old, it is best to change it. The most important aspect of upgrading your electrical panel is that your home will be protected from fire hazards caused by overloaded circuits. You can have a peace of mind knowing your home and family are protected. You will also be able to use your many appliances safely which it would have been risky with an older panel.
Types of Electrical panel:
We install many types of electrical panels. The most common residential panel upgrade is from 100 Amps to 200 or 400 Amps. And for our commercial installations, the sizes can range anywhere from 200 AMP to 230KV for high voltage applications.
The cost of an electrical panel upgrade can range anywhere from $1500 and higher. The actual cost will be determined upon identifying whether the connection between your electrical panel and the utility grid is above ground or underground, in which case trenching might be required-commonly known as overhead and underground services.
Don't wait! Call Imperial Solar at (866) 61-SOLAR – (866) 617-6527 and get your FREE quote today!
Or fill out our Free Evaluation request form and get started today!