SPREAD THE WORD AND  EARN MONEY!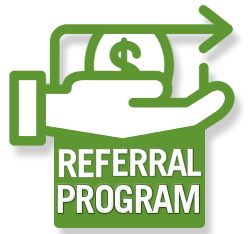 At Imperial Solar we desire to spread the news of the vast benefits of going solar and saving money. Thus we have implemented a generous rebate program for anyone who refers a friend, co-worker, relative or anyone who is interested in joining the millions of Californians that have gone green. Below are details of the program.
Referral for new customers: $500
Referred person must be the property owner
Utility bills must be obtained from the client
Referred person must sign a contract (Agreement) with Imperial Solar
Don't wait! Call Imperial Solar at (866) 61-SOLAR – (866) 617-6527 and get your FREE quote today!
Or fill out our Free Evaluation request form and get started today!